The StorNext Home Page
On the home page you will find the following:
Status and Capacity Monitors for file systems, libraries, storage disks, and tape drives
Dropdown Menus: Configuration, Tools, Service, Reports and Help
Current status indicators for the file system and Storage Manager
A link to the tickets page (if tickets exist)
A link to admin alerts (if they exist)
A link to the Library Operator Actions Required page if actions exist
A link to blockpool status if the blockpool is in the process of starting up
From any page you can return to the StorNext home page by clicking the Home (house) icon in the upper right corner of the screen. Beside the Home icon is a question mark icon. Clicking this icon displays a list of StorNext online help topics. Displayed in the upper right corner beneath the home and help icons is the user name or IP address of the StorNext user currently logged in.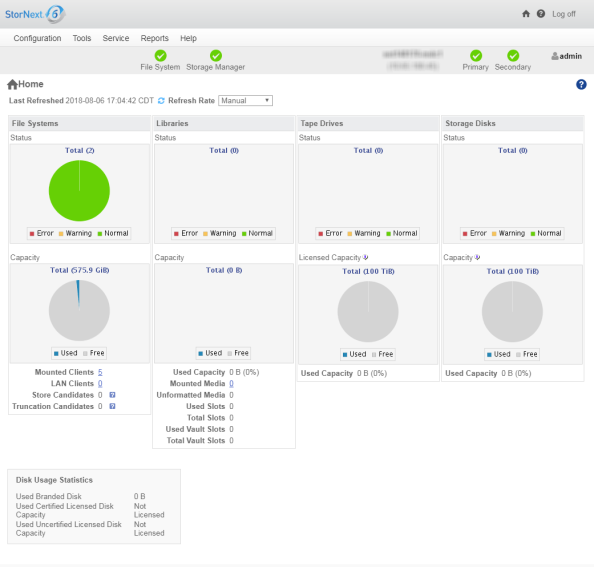 StorNext Monitors
The StorNext Home Page displays the following status and capacity monitors which are used to show the current state of the StorNext system:
Use these monitors to view current statistics of managed or unmanaged file systems and configured libraries and/or drives, including file system, library, and drive information. Each of the status monitors provides an at-a-glance view of the total number of components (file systems, libraries, storage disks, or tape drives) and the current state of the file system: green for normal, yellow for warning, and red for error.
Note: The capacity indicators on the StorNext home page provide approximations and may not accurately summarize the actual current capacity. If you require accurate, up-to-the-minute capacity information, click the Capacity areas of the home page to view current capacity.
The information shown in the monitors is refreshed periodically. You can specify the refresh rate by choosing the desired interval from the Refresh Rate list:
No Refresh
30 seconds
1 minute
2 minutes
5 minutes
10 minutes

StorNext Home Page Dropdown Menus
The dropdown menu options located in the bar at the top of every page allow you to access StorNext setup, tools, service, and reporting options. The StorNext home page contains these drop-down menus and menu options: